Kyriakos E. Georgiades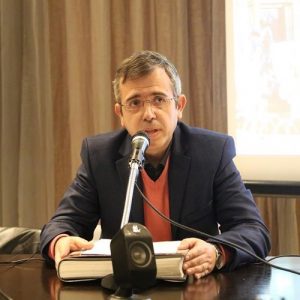 He was born in Thessaloniki in 1970 and grew up in Serres, Greece. In 1992, he completed his studies in the Department of Classical Philology in the Aristotle University of Thessaloniki. He worked as a Greek teacher and a pedagogist in the Papafeio Orphanage in Thessaloniki from 1994 to 1996. He has been teaching lessons of his speciality in the Gnomon Private Educational Institute since 1997. He has been involved as a radio producer in the radio station of the Holy Metropolis of Serres and Nigrita, "Kivotos Radio Station", since its foundation, with two radio shows: "Secret Garden" and "The language given to me was Greek". In March 2008, he participated as a charter member in the establishment of the Association for the Promotion  and the Dissemination of the Greek Language (A.P.D.G.L.), which has been activated successfully, over recent years, organising great cultural events and seminars and publishing the journal Logoi en Serrais (Words in Serres) [Three issues, dedicated to Al. Papadiamantis, Saint Photios the Great, and Rigas Feraios-General Yannis Makriyiannis, have been already published]. Since 2012, he has been offering Classes of Ancient and Modern Greek Language, History and Culture to Children, Teenagers and adults. Since February 2016, the online and also e-learning attendance to his classes has been made possible -for whomever may be interested in it. He is married to the English language teacher Anastasia Kymbari and they have five children.
Lia Meliou
Lia Meliou was born in Serres, Greece. She graduated top of her class in Greek Philology, with a specialisation in Classics (Ancient Greek and Latin), at the Aristotle University of Thessaloniki. She holds a  Master's Degree in Ancient Greek Philology, with a thesis on Homeric Epic and Lyric Poetry (Kleos in the Homeric Epic and the Lyric Poetry). She has been teaching Ancient and Modern Greek since 2012. She is also in charge of the English part of gnomonpedia.com website and social media (Facebook, YouTube, Twitter, Instagram). As she says: "Teaching the Greek Language and conveying the Greek Culture both to Greeks and foreigners in all over the world, has been the Dream of a Lifetime. I am really glad Gnomon Greek Language and Culture School has enabled me to realise it!"
For more information about the programme:
Classes of Ancient Greek Language, History and Culture to Primary School students and also to adults
, click
here
.